MELBOURNE's BEST VALUE WEB DESIGN - your own website with search engine optimisation and submission, up and running within 7 days, from only $396!
CUSTOM WEB SITE DESIGN
As you can you can see from the examples we don't use templates - your website is as unique as you are!
Custom design websites, developed especially to suit your business
Content Management websites to empower you to make changes
E-commerce solutions to sell online (checkout systems integrated with payment gateway and shipping cost calculator)
Professional marketing content to get your visitors to buy from you
Search engine optimisation and submission.
WHAT DETERMINES THE COST OF A WEBSITE?
the size of the project (number of pages, number of photos)
the calibre of the design (static graphics vs animations or videos and sounds)
the functionality requirements (forms, payments, content management, galleries, blogs, chatrooms, newsletter systems, statistics...)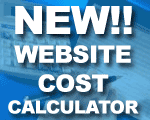 WHAT INFORMATION DO WE NEED TO GET STARTED?
the domain name to register (or - if you have a domain and hosting already arranged - access info)
branding info - any logos or graphic headers, or instructions to create them
marketing info - slogans, headlines, 3 good reasons why you are the best, profile of clients you want to attract
structure - number of pages-subpages
functionality - for both the visitor (eg. forms, payments) and yourself (eg. admin console to make changes, send newsletters, view statistics)
content - the wording and images for the pages (if available - otherwise we can create).
TEN STEPS TO CONQUER THE NET
Setting objectives - what do you want your website to do?
Designing a website - how do you want it to look?
Creating the content - how will you make them buy?
Domain name registration - best name for your business
Publishing and hosting - low cost solutions to your needs
Search engine optimisation - driving the traffic to your site
Advertising on the Net - getting more traffic at low cost
Shopping carts and payment gateways
Converting visitors to buyers - making them buy
Converting buyers into customers - making them come back for more.

INTERESTED IN LEARNING MORE ABOUT MAKING MONEY ONLINE? OR ABOUT SELLING IN PRINT?
Click on the images to preview the best books and courses on the subject.
Setting Objectives for Your Website
For any activity to be undertaken in business (profitably), it must result in either (1) sales/revenue growth, or (2) cost reduction. If the activity cannot deliver one of those, it should not be done.
If you can agree with those principles, please read on.
The same scrutiny should obviously apply to any activity undertaken on the internet. For most businesses, the objective of their first website is to reduce marketing costs: when a customer calls with an enquiry, instead of sending out a catalogue or arranging a meeting to present their product, they can simply refer them to the information on their website.
If this is the only objective, then the website is not designed to bring in new business, in the form of generating prospects and leads for the company; its role is simply to provide credibility and a very cheap way to distribute information about the products and services offered.
Once this objective is made clear, there is no need for features such as search engine optimisation and internet advertising, some of which can be very expensive. In this scenario the business can save a lot of unnecessary expense simply by being clear about the project's objectives.
Obviously, if the business still wants to attract new customers, it will need to use off-line forms of lead generation, such as traditional advertising.
While focussing exclusively on cost-reduction objective will usually deliver significant cost savings, it will not make you rich. The way to make millions on the internet is to use it for what it was meant to be used – to generate new business. This is what we mean by conquering the online world.
Every day hundreds of millions of people log on the web in search of goods and services. Whatever it is that your business is offering, there will be thousands of qualified prospects looking for it 24 hours every day. Unfortunately, there will also be thousands (if not millions) of your competitors trying to sell to them too. How do you stay ahead?
Well, a good first step is to decide to use a professional web design company, rather the schoolkid next door. As long as you are clear on the objectives you want to achieve, the professional will be able to advise how can they be achieved in the most cost efficient manner.
The Trinity of making money on the internet:
Attract Visitors to the website
Convert Visitors to Enquirers
Convert Enquirers to Customers
Attracting visitors
Let Google see your website
Submit to the Index
Ensure content is visible to search engines (do not embed wording in images or flash to achieve a cosmetic effect to the detriment of google ranking)
search engine friendly navigation (refrain from using fancy navigation techniques that google can't follow; or alternatively duplicate the navigation to the important pages).
Google ranking for specific phrases - Keyword targeting
Define the keywords for the customer you want to attract
Narrow down as much as possible (eg. suburb rather than state)
Test and measure (google adwords are excellent for testing)
Important - DO NOT:
Assume human visitors will read your wording content cover to cover (the only person who will read every word on your website is you)
Forget geographical keywords (if your market is Melbourne, why compete for keywords with companies from New York and Cape Town?)
Use generic headings (eg. use Accounting Services instead of just Services)
Use search engine spamming techniques (such as invisible text or link farms)
Focus on the design and cosmetic effects to the detriment of google ranking and speed of loading time.
What determines google ranking?
Your ranking (for any given keyword phrase) depends on two factors:
1. Phrases proximity to the search
How close are your keywords to those being searched (keyword selection)
How often do they occur on the page (keyword density)
Where do they occur (keyword weight)
2. Site popularity
How many links point to your site from the web?
Weight of those links – relevance and ranking of linking sites
Do not use link farms!
The most important part for you is to supply your web designer with a well-thought list of keyword phrases for which you want your website to rank, if possible no more than ten, in priority order. The best possible source of ideas for the right phrases are your customers - simply ask them what would they type into google when searching for your product or service.
Would you like to find out more?