Best Web Design Melbourne - About Us
Allwelt International is a web design and internet marketing company headquartered in Melbourne, Australia. We proudly service our valued customers worldwide, offering low cost web site design services.
The secret behind the low cost approach is that we have a branch in Poland, and all time consuming work is done by programmers over there. While the wages of our programmers are excellent by local standards, they remain extremely competitive in the Australian market. At the same time, employing the programmers directly (as distinct from outsourcing) ensures that quality is not compromised.
In our 10 years of business we have never had a project not delivered on time and on budget.

The Mission of Allwelt International
We passionately believe that business entrepreneurship and wealth creation is among the most noble of human endeavours, and that business entrepreneurs are the engine powering the progress of mankind. Our mission is to help them succeed.
The Founder of Allwelt International
Allwelt International was founded in Melbourne, Australia, in 2003 by Darius Mikolajewski.
Darius was born in Warsaw, Poland. He started his first business at the age of 21. At 26 he escaped the communist world, one of the few to successfully cross the Iron Curtain.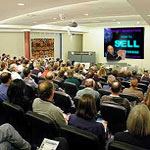 Since then Darius had been working in various marketing roles in the corporate world (in Australia for Myer Grace Bros and Bunnings). He has written several books on the topic of internet marketing, as well as diets and nutrition.
Darius is a well-known public speaker in the business world of Australia. He is frequently invited by industry bodies and government organisations to talk about internet marketing, as well as effective marketing strategies in general.
In terms of formal education, Darius holds a Master of Arts degree from the University of Warsaw (including teaching qualifications), as well as Bachelor of Commerce (MARKETING) from the University of Auckland, New Zealand.