Contact Allwelt International
Contact Information
Call us now - a happy human being will answer the phone with a smile!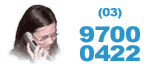 International phone 613 9700 0422
Please note: the reception is manned 9am to 5pm, Monday to Friday, as well as most Saturdays; please refrain from calling outside business hours or on Sundays.

Fax 03 9700 0433 (international 613 9700 0433)
Email:
Offices:
City Office
St Kilda Rd Towers
Level 2, Suite 232, 1 Queens Road
Melbourne 3004
View map
Endeavour Hills Office
17 Lawson Way, Endeavour Hills 3802
Melbourne Victoria
View map
Click here for contact details of our European Branch in Warsaw.